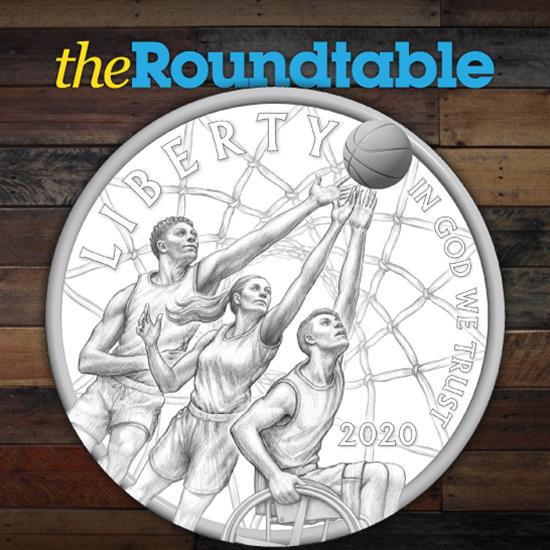 Football season just started, but do you mind if we talk basketball? We know, we know; basketball season only means the beginning of the winter months and none of us are ready for that already.
But if you have followed along with The Roundtable Blog or even have kept yourself up-to-date with the latest news from the United States Mint, you would know that a public design competition took place earlier this year for a new commemorative to be released in 2020 that celebrates the 60th Anniversary of the Naismith Memorial Basketball Hall of Fame. Designs were submitted, narrowed down, and as of earlier this month, finalized by the Mint. The designs will be featured on three dome-shaped coins that include a $5 gold, a $1 silver, and a half dollar clad.
The winning obverse in which the contest was for was designed by Mint Artistic Infusion Program (AIP) artist Justin Kunz. The design features and exemplifies the "fast pace, intensity, and hands-on action of a basketball game---the constant, competitive struggle for possession of the ball and the skill required to clear the hoop" according to the Mint. Three players are depicted reaching for the ball together to reflect the bringing together of diverse people from different backgrounds. The sport of basketball as a whole is portrayed as a unifying experience while the arms of all three players were purposefully extended to highlight the physical and mental capacity it takes to be successful in the game. The players are surrounded by a net and rim in the background while "LIBERTY", "IN GOD WE TRUST", and "2020" are inscribed around the outer top rim and to the right on the coin.
The reverse, designed by fellow AIP artist Donna Weavers, shows a basketball on its way to passing through the net. "UNITED STATES OF AMERICA" and "E PLURIBUS UNUM" are also seen on the reverse. The $5 gold design will also feature "FIVE DOLLARS", the silver dollar will additionally feature "ONE DOLLAR", and the clad coin will have "HALF DOLLAR" inscribed as well.
Source: United States Mint