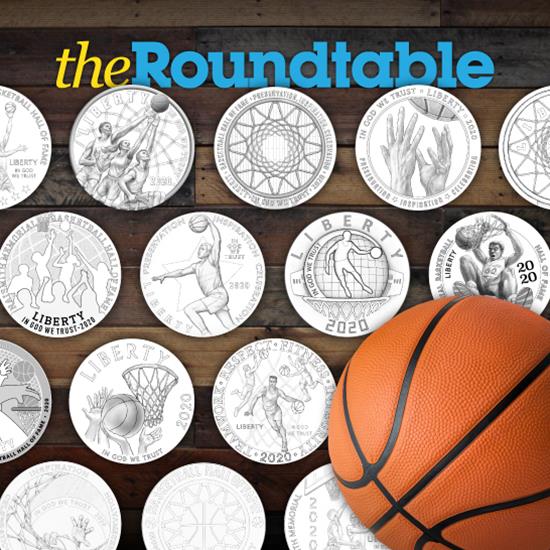 If you are a regular at The Roundtable, which we hope that you are, you may remember a post back in March that talked about a certain design competition. It was not coincidental that we featured that blog as it was the week of the fanatic event that is March Madness. Ranked #1, Virginia took it all. Congratulations Cavaliers!
But if you can recall, the United States Mint announced a public design competition that would commemorate the 60th Anniversary of the Naismith Memorial Basketball Hall of Fame in 2020. Signed in to law in December of 2018 by President Trump, Public Law 115-343 would allow for the production of domed $5 gold, $1 silver, and half-dollar clad coins by the U.S. Mint.
While the reverse was to feature a basketball, the obverse of the coin is to be selected from the competition which was opened to the public in March. The deadline for the submitted designs was just last month in June and according to the Mint, the winner will be announced by the end of this year by the Citizens Coinage Advisory Committee (CCAC).
Although the images were released to the public by the CCAC, the images are original and have not been manipulated or corrected (if an error is made via date, spelling, etc.). See all the submitted designs for the obverse of the coins here.
The reverse designs of the commemorative coins have also been released by the CCAC.
As major sports fans here at The Coin Vault, we cannot wait until this commemorative coin series comes out next year! Good luck to all who submitted designs!