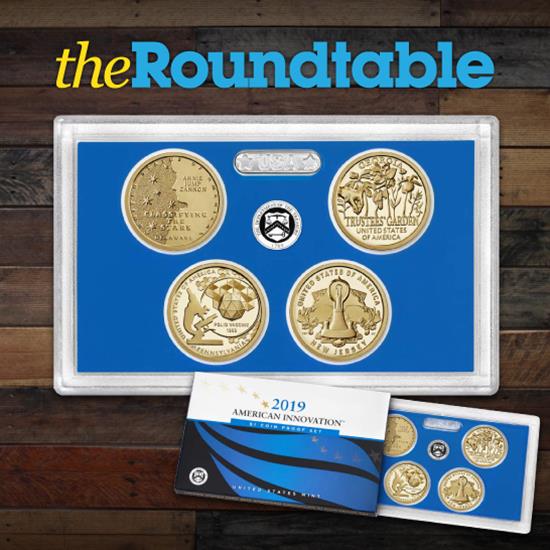 The train keeps rolling in at the Innovation station…. the American Innovation that is. The brand new $1 coin series has already flourished since its 2018 introductory coin debut. With a reverse proof release and the first coin (Delaware) release for the Philadelphia and Denver minted versions, the United States Mint is now set to release the American Innovation 2019 $1 Coin Proof Set on Friday.
Released in a 4-coin set and minted at San Francisco, the Proof set will feature coins that honor American innovation and significant efforts made by people or groups from or in Delaware, Pennsylvania, New Jersey, and Georgia. Each coin will have a mirror-like background with frosted foregrounds.
The 2019 $1 Coin reverse design for Delaware depicts and honors astronomer Annie Jump Cannon who created a system of classifying stars that is still used today.
Pennsylvania's reverse recognizes the creation of the preventive vaccine for polio while it depicts "an artist's conception of the poliovirus at three different levels of magnification" that represents the research conducted.
The Edison bulb can be seen on the reverse design for New Jersey as it honors the invention of the light bulb with a filament that could last 1,200 hours.
Lastly, Georgia's reverse design recognizes the Trustees' Garden which was established in the 1730s as the first agricultural experimental garden in America. The $1 coin features a hand planting seeds as it represents the variety of plants grown in the garden.
The U.S. Mint does not currently have a household limit nor a product/mintage limit.
Source: United States Mint