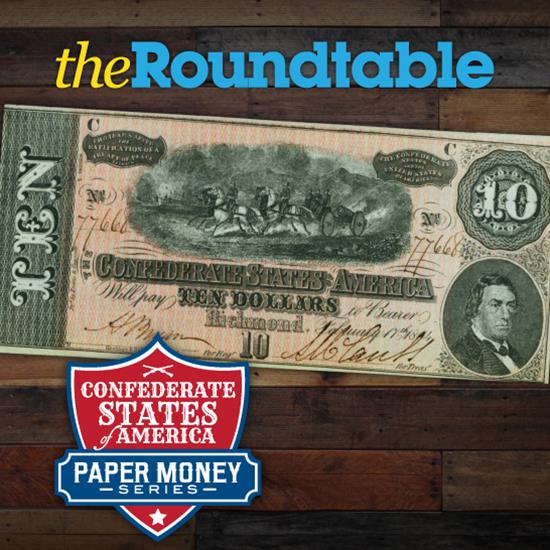 As three separate issuing of Confederate paper money notes took place in 1861, the first year of issue, four more separate issues or authorized Acts took place between 1862 and 1864. From even smaller denominations being produced and issued to original designs being created by engravers to an unlimited quantity being authorized, paper money went through a lot in the Confederate States while the war between the North and the South raged on.
Fourth Issue - Act of April 17, 1862
Although unclear how a $2 denomination was released in 1861 due to error, the Act of April 17, 1862, authorized the production of lower denominations featuring the $1 and $2 notes. $100 notes were also authorized to pay interest at the rate of 2 cents per day. The Act ended up authorizing $165 million of the $100 interest notes in addition to $5 million of the $1 and $2 notes.
Another act, the Act of September 23, 1862, eventually increased the amount of the $1 and $2 notes by yet another $5 million. It was clarified later that these lower denominations were needed to make change. Due to reluctant behavior by the Secretary of the State to produce anything lower than $5 currency, there were a number of issues in fractional denominations issued locally, by the state, and by banks.
Fifth Issue - Act of October 13, 1862
This Act ended up authorizing $90 million worth of Treasury notes but ended up issuing around $140 million by utilizing previously authorized legislation. All of the denominations under this piece of legislation were engraved by Keatinge & Ball, a leading engraver and printer of Confederate notes, which allowed for more uniformity. Previous issues feature a number of different designs that printers originated. With this Act, confusion was less likely to take place. However, lithographic work on lower denominations continued to be done by other firms.
Sixth Issue - Act of March 23, 1863
Further inflation continued during this time as the demand for currency increased despite the government's attempt at reducing paper money circulation and increasing bond issues. Due to the lack of being able to stifle the increase in production, the Act of March 23, 1986, authorized the following: $5-$100 notes not be issued in amounts exceeding $150 million monthly in addition to the limit of $15 million for 50 cents and $1 and $2 notes.
When this issue of notes first took place, the South had yet to be defeated at Gettysburg and Vicksburg but the presence of the war itself had taken its toll. This particular issue of notes, all except the lower three denominations came with a caveat of sorts stating that "the payment of the notes would be made every two years after the ratification of a treaty of peace."
Seventh Issue - Act of February 17, 1864
With this issue, unlimited quantities were authorized for printing (approximately $1 billion worth). All notes prior to this issue were to be retired after being funded into bonds by certain dates. Remaining notes were then to be taxed out of existence. This method of reducing circulation though was not thought to be very successful as there are a number of previous dates still in existence. This did not seem to bother or matter much though as the Confederate dollar was worth so little that those redeemed would not value much.
While the seventh issue of notes was the last, an eighth issue was authorized by Congress in the amount of $80 million to pay the Army on March 18, 1865. This legislation was vetoed though by President Davis who thought the 1864 issue was authorized for the purpose of replacing older notes and reducing circulation. He felt that another issue would be "accepted as a proof that there is no limit to the issue of Treasury notes."
Source: Confederate States Paper Money: Civil War Currency From the South (12th Edition) by George S. Cuhaj & William Brandimore