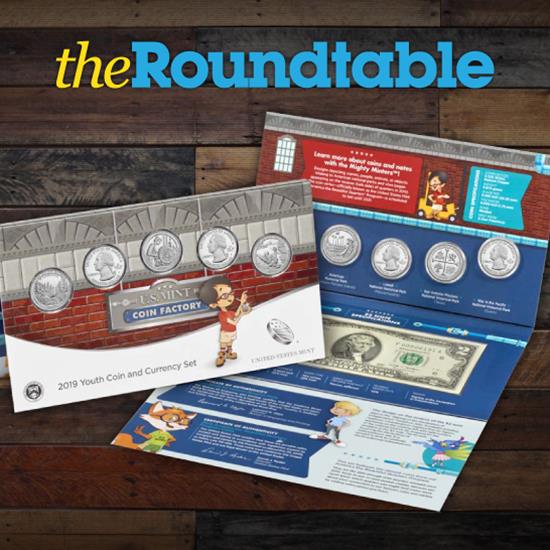 2019 alone has been a banner year for coins and medals out there. From the American Innovation $1 Coin series kicking off to the Apollo 11 50th Anniversary collection to the soon-to-be-released first-ever Enhanced Reverse Proof American Silver Eagle in Original Government Packaging, the United States Mint has put together quite the showing for the numismatic hobby. But amongst all those big-time releases were coin sets that once again focused on the interest of youngsters.
Explore and Discover Coin Set. Rocketship Set. $2 Rocketship Currency. And now, the Youth Coin and Currency Set. The United States Mint is releasing a fourth youth-oriented product aimed at sparking interest in the youngest of collectors out there. It also happens to be the first time the Mint has created and produced a kid-centered coin and currency set. The set itself will be released tomorrow on October 31st (Halloween).
The tri-fold presentation folder contains all five 2019 America the Beautiful Quarters struck in proof finishes from the San Francisco Mint. The reverses of this year's quarters honor the following sites:
Lowell National Historical Park in Massachusetts
American Memorial Park in the Northern Mariana Islands
War in Pacific National Historical Park in Guam
San Antonio Missions National Historical Park in Texas
Frank Church River of No Return Wilderness in Idaho
The set also contains a $2 Series 2009 note from one of the following Federal Reserve Banks: Cleveland, Atlanta, or Chicago. The note included features a reverse design that depicts the "Signing of the Declaration of Independence" which is representative of John Trumbull's painting depicting the historical moment.
To drive home the youth featured product, the coin and currency set features the new Mighty Minters characters: Timothy, Lina, Alex, Eli, and Layla. The characters each have a unique style as they remain relatable to kids and their parents with their fun and diverse representation.