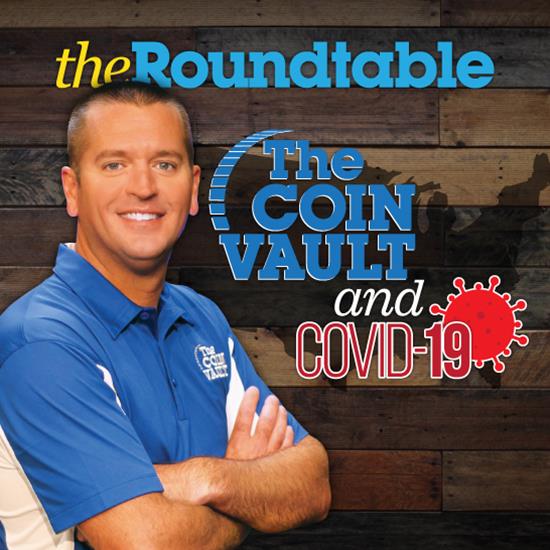 The way the world is operating now is unlike anything we have ever seen. While our country more specifically is going through a difficult time battling COVID-19, we have seen some of the best of humanity come out through some of these dark times. First of all, we want to personally thank all of those on the frontlines including everyone in the health and medical field and additionally everyone who has donated their time and money to aid in the fight against this invisible virus.
While we wanted to make sure to take the time to thank those who have sacrificed for the good of the country, we also wanted to talk directly to you, our loyal supporters, about what we were doing in the face of this global pandemic. The Coin Vault's show host, Andy Abel, wanted to share some words about what we have done as a company to move through and forward during these difficult times.
"We are trying to take every precaution we can to keep our staff safe," Andy said. "We are working with a skeleton crew here from the show to shipping and fulfillment. Everyone is spaced appropriately according to government measures and stipulations. One of our biggest concerns initially was our call center because normally, there are anywhere from a dozen to 15 individuals staffed to take phone calls and they are all right next to each other. With the help of our IT department, we were able to get a majority of them set up with headsets and computers to take calls from home. There are still a few individuals who work directly at the call center but they are spaced out accordingly."
As there are a number of businesses across the country who have not been so fortunate to stay open and operating at this time, Andy, and many others who help run this family business, are incredibly proud of the fact we have been able to remain operating the way we have.
"Considering the record number of unemployment claims going on in the country right now, I'm pretty proud that we have been able to keep our doors open and our staff employed. We have been doing everything we can to stick to government regulations and taking all the preventative steps we can to help combat this virus. We have hand sanitizers around every corner and soap dispensers loaded up at all times. We are committed to keeping this business running in the safest way possible."
With the suspension of sports across the country and the globe (we miss them too), our show in a lot of ways has garnered more attention.
"In the past, large sporting events on television would take away our viewership," Andy stated. "With more people in quarantine and those sports events not taking place currently, more and more people have been watching the show."
On the selling side of things, Andy has noticed a bigger appetite from customers as far as owning physical silver, which is reminiscent of past economic struggles.
"Our 90% silver deals like the Barber coinage or the rolls of Kennedy Half dollars have been on the uptick a little bit because of that want to own physical silver at the moment," Andy said.
More important than anything business-wise when it comes to The Coin Vault, Andy really hopes that we have been a nice distraction for those who need a break from all the news.
"I hope through this difficult time we have been able to give people an escape by being able to still tune into our program," he said. "We have customers who have called in and thanked us for staying on the air. At the end of the day, while we have been able to operate as normal as possible when it comes to running a business, it's really rewarding to get calls like that because we all need a break from reality even if it's for a couple of hours on a weeknight to learn about coins."