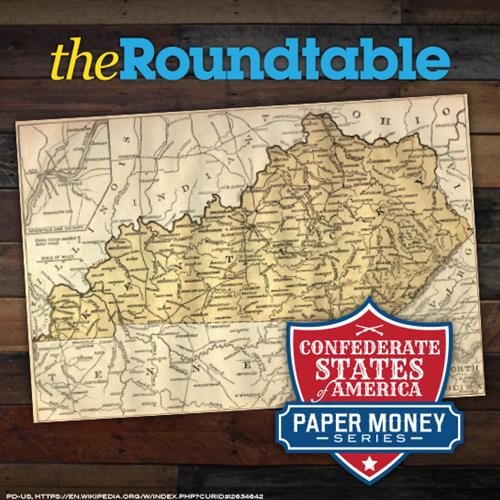 The secession of the southern states in the early 1860s led to the formation of the Confederacy. After South Carolina seceded on December 20, 1860, seven states followed although it was thought that there would be double that initially. Secession was a delegate decision state by state and after the election and fall of Fort Sumter in April of 1861, some states decided against it. However, once the Confederate States were established, currency circulated heavily throughout the South during the American Civil War. But as we have come to learn throughout this blog series, that currency still was not enough in the South. This led to the enactment of individual states issuing their own currency.
Kentucky
It was the wish of the State of Kentucky to remain nonaligned to both the North and the South during the American Civil War. Considered a 'border state", it ended up being everything but uninvolved. Both the pro-slavery and anti-slavery sectors ended up tearing the state apart. On the Presidential front, neither Lincoln nor Breckinridge were elected in 1860. It was John Bell of the Constitutional Union Party who was able to secure the votes to be elected. The Governor of the Bluegrass State, Beriah Magoffin, also resisted the call for volunteers to fight on either side and advised the Union and the Confederacy to not occupy the state. However, it was ignored as the southern part of the state was invaded and thousands of men went to fight for both sides.
In mid-November of 1861, an Ordinance of Secession was passed that selected George W. Johnson as Provisional Governor and Bowling Green as the state capital. Prior to Kentucky's presumed secession, the Confederate government already had members in Congress. However, the state did not declare itself a part of the Confederacy by the Union and therefore, was not subject to Reconstruction after the war was over. While not a part of the Confederacy, the state of Kentucky's connections with the South remained strong. Jefferson Davis was born near Hopkinsville, Kentucky, in 1808 and that connection was never truly forgotten even though Davis would go on to live in Mississippi and become a representative of that state in Congress.
Neither side was claimed in Kentucky and as a result, no Civil War currency was issued.
Source: Confederate States Paper Money: Civil War Currency From the South (12th Edition) by George S. Cuhaj & William Brandimore