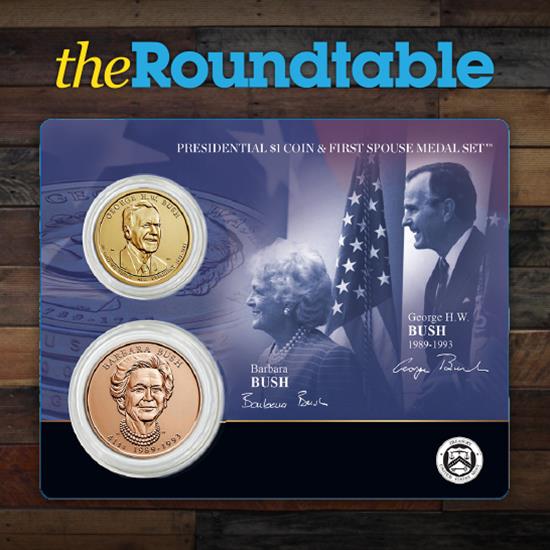 This first day of Winter, we are excited for a release from the United States Mint that will happen today at noon EST. Continuing the great legacy of the late 41st President of the United States and his co-pilot, the Mint decided to produce a George H.W. Bush and Barbara Bush 2020 Presidential $1 Coin and First Spouse Medal Set.
The Philadelphia minted set contains an uncirculated George H.W. Bush Presidential $1 Coin and a Barbara Bush Bronze Medal. The coins will be sealed and protected in a durable plastic card with vibrant depictions of the President and First Lady. With a limited mintage of just 10,000, the set will be available for $25.
The obverse design of the Presidential $1 coin features the portrait of George H.W. Bush with the inscriptions "GEORGE H.W. BUSH," "IN GOD WE TRUST," "41st PRESIDENT," and "1989-1993." AIP (Artistic Infusion Program) artist Elana Hagler came up with the design while United States Mint Chief Engraver Joseph Menna sculpted it.
Following the design structure of the entire Presidential $1 coin series, the reverse of the coin will have the common design that depicts the Statue of Liberty. It was designed and sculpted by former Mint Sculptor-Engraver Don Everhart. Incused on the edge of the coin will be the inscriptions "2020," "E PLURIBUS UNUM," and the mintmark 'P' representing the Philadelphia Mint.
The obverse of the bronze medal (like the $10 Gold coin released earlier in the year) depicts a portrait of the First Lady Barbara Bush. Inscriptions read "BARBARA BUSH," 41st," and "1989-1993."
The reverse will honor the late Barbara Bush's passion for literacy within the family. The design itself features a person reading with an open road in front of them. The book is meant to symbolize literacy, education, and knowledge while the road is to symbolize the future and the journey of life. A sun in the distance is also depicted with the intent to represent a promise of a brighter future.