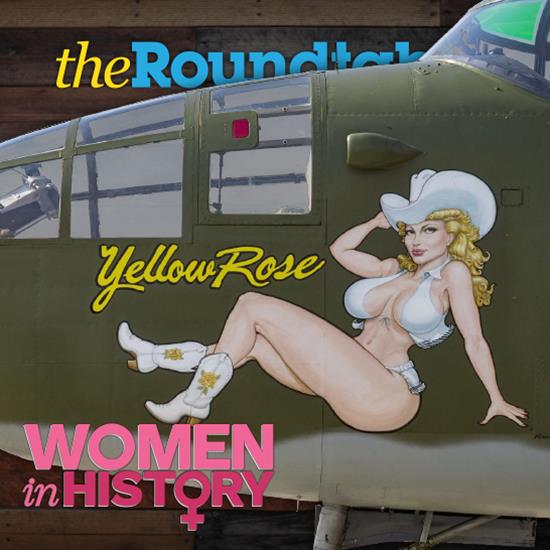 As strict and uniform as a military regiment is, especially during the times of the World Wars, one would be surprised to know that there were few examples of a break from tradition that were welcomed. Planes were heavily used back during World War II and it was on these war machines that creativity and form of expression would be used. What does this have to do with women? Well, a lot of the art featured women and a very specific one would make a name for herself.
In the next edition of our blog series featuring the 100 Greatest Women on Coins put together by Whitman Publishing, author Ron Guth discusses the popular figure that would be featured on a B-25 during the 1940s and eventually a commemorative coin in 2012.
#52 - Yellow Rose
During World War II, something called 'nose art' was used to distinguish planes used by fighter pilots and bomber crews. Simple forms of nose art featured names, nicknames, and slogans like the plane that dropped atomic bombs on Hiroshima and Nagasaki, Japan, and was referred to as the Enola Gay. Other nose art forms were much more detailed as they featured depictions of cartoons, devils, orchids, and most popularly, women (pinup). The Yellow Rose was an example of the latter.
A B-25 "Mitchell" Bomber, the Yellow Rose was built in 1943 and delivered for use in late April of 1944. Named after General William "Billy" Mitchell who was a World War I Army general, the Yellow Rose never actually saw action overseas during the war but was appointed to specific units in South Carolina, Connecticut, and Massachusetts. It was then put away into storage in Texas in 1946. Three years later in 1949, the plane was used as an instructional airframe before it was once again made ready to fly in 1956 and used to train pilots. After being completely restored, it was donated to the Commemorative Air Force of San Marcos, Texas in 1981. It currently travels around to air shows where individuals can board the plane. It is one of the 30 B-25s that are still able to fly today.
The island nation of Niue issued a three-coin set in 2012 that commemorated World War II nose art. The sets featured the Yellow Rose, Briefing Time, and the Memphis Belle. Guth advises that the collecting difficulty is easy in the case that a three-coin is purchased. However, the coin on its own is rarely available as collectors normally do not break them up. Of the three coins in that set, all of which contained women on the coins, the Yellow Rose was the only one to make the top 100 list.