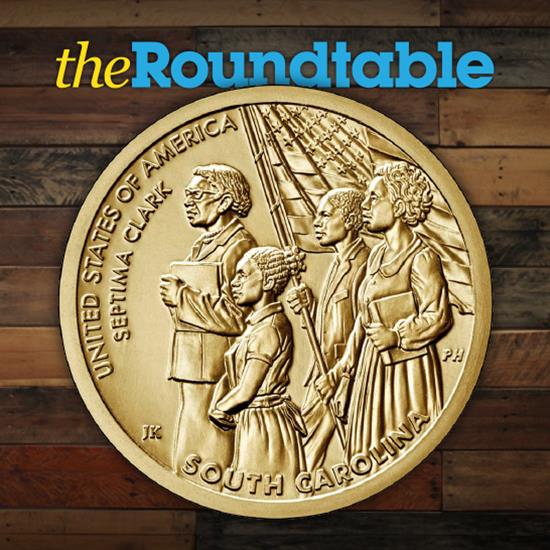 Tomorrow is the United States Mint's final design release for the 2020-date American Innovation $1 coins. Highlighting the state of South Carolina, the eighth design for the multi-year series will honor South Carolina's educator and Civil Rights activist Septima Poinsette Clark
To be released in 25-coin rolls and 100-coin bags from both the Philadelphia and Denver Mints, the South Carolina $1 coin is part of the United States Mint's attempt at honoring innovation and innovators from each State, District of Columbia, Puerto Rico, Guam, American Samoa, U.S. Virgin Islands, and Northern Mariana Islands.
Justin Kunz, AIP designer, and engraver Phebe Hemphill, help depict Ms. Clark marching along with three young African American students. The students are carrying books and an American flag, both of which represent the notion that "education and literacy among oppressed people are necessary for empowerment and enjoyment of civil rights." Inscriptions on the reverse design read "UNITED STATES OF AMERICA," "SEPTIMA CLARK," and "SOUTH CAROLINA."
Ms. Clark, who has been called the "Mother of the Civil Rights Movement," was considered a pioneer and social vanguard of highlighting the connection between education and political organization when gaining the right to vote. As a young student, Clark attended Avery Normal Institute and later went on to earn a bachelor's degree at Benedict College and a master's degree at Hampton before obtaining a teaching license. However, laws prevented African Americans from teaching in public schools at the time. Clark would then become an instructor on Johns Islands in South Carolina and would later return to Charleston to teach at Avery. She also joined the National Association for the Advancement of Colored People. Later on in her career, she worked at Highlander Folk School in Tennessee as a director of its citizen school program. There she worked on improving basic literacy and math skills and her efforts increased voter registration.
The obverse design of the coin will feature the Statue of Liberty design that will remain constant throughout the multi-year series. "IN GOD WE TRUST" can be seen on the design as well as the denomination of "$1". A privy mark can be seen in the form of a gear representing the series as a whole in its attempt to honor and represent industry and innovation. The edge of the Uncirculated design will be incused and inscribed with "2020," the "P" or "D" mintmark representing either Philadelphia or Denver, and "E PLURIBUS UNUM."
Source: United States Mint