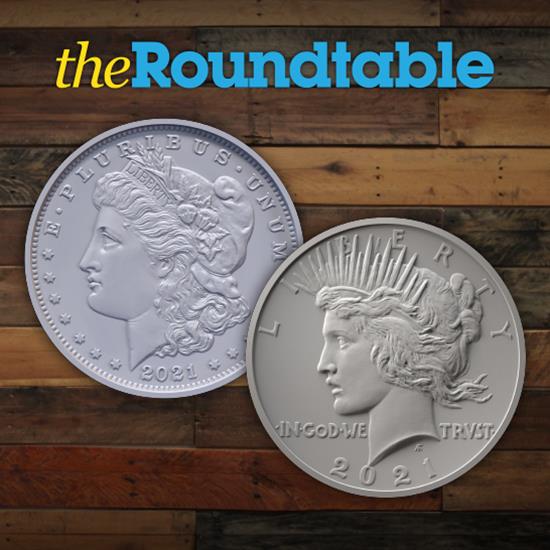 The last time we talked to you about this subject was back in early April of 2020. While the introduction to the concept was met with early legislation brought forth back in 2019, it was not until a new push for legislation in mid-March of 2020 that the idea got pushed further. Update: the idea for dollar coins to be made for the 100th Anniversary of the dollar design transition has not only been accepted but coin designs have now been reviewed by the Citizens Coinage Advisory Committee (CCAC) as of January 19th, 2021.
H.R. 6192, or the 1921 Silver Dollar Coin Anniversary Act, was presented in the House by Rep. Andy Barr with the support of the chairman of the CCAC, Thomas J. Uram, and president of the Pennsylvania Association of Numismatists and CCAC member, Mike Moran. The legislation presented on March 11, 2020, sought to celebrate the centennial anniversary of the transition from the Morgan to the Peace dollar in 1921 with legal tender bullion coins.
It is now certain that the United States Mint will mark the centennial anniversary with the production of a minimum of six different coins, according to Coin World. The six different coins will be a combination of the two designs at three different production facilities. While the 1921 Morgan Silver Dollar was struck at Philadelphia, Denver, and San Francisco, it makes sense that the 2021 Morgan dollars will be done the same way. The Denver and San Francisco minted dollars will have the mintmark designated below the eagle on the reverse. The Philadelphia minted coin will have no mintmark as it was done originally.
In addition to those coins, the Philadelphia Mint will also take on striking an additional two dollars with privy marks. Those privy marks will honor the Mints that are no longer in production but produced their fair share of Morgan Silver Dollars: Carson City and New Orleans. The coins have officially been authorized under Public Law 116-286 as the 1921 Silver Dollar Coin Anniversary Act.
Aside from the production of the 2021 Morgan silver dollar coin, the Philadelphia Mint will also strike the 2021 Peace dollar. It is currently unknown as to what strikes or finishes they will proceed with for the Peace dollar. Both the 2021 Morgan and Peace dollars will be struck in .999 fine silver and featured as commemorative dollars. The original dollars were struck in .900 silver.
We still are unsure of when and how the Mint will present these commemorative coins and what mintages will look like, but we do know that this new information will certainly give even more life to the commemoration in 2021. We are certainly excited and look forward to any new information to come.
Source: Coin World; United States Mint