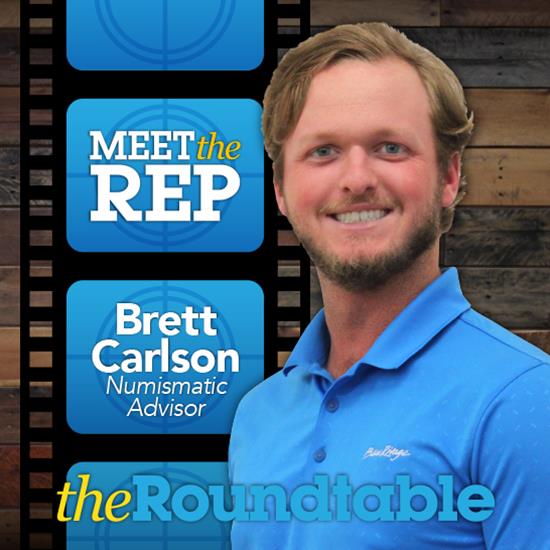 One of the best things about the coin business is that no matter your budget, there is something for everyone when it comes to collecting. Numismatics is a broad field and every day it grows larger in that sense. While that fact is generally positive, it does make for a difficult chase when it comes to specific items and for even knowing that certain things are out there to be collected. Those items could have a number of different reasons for either fact, but one thing we know to be clear is that when you have members of a Preferred Customer Division like Brett on your side, customers are more likely to feel comfortable asking for help when thinking about their specific collecting experience.
"There are a number of different types of collectors that all have different needs and wants for their collection," Brett said. "From low mintages to values to precious metal content and more, there is a complex history to this business that is my job to relay to my clients. Basically, I put myself in an advisor position to where I'm making recommendations and ultimately giving them what they want at the end of the day."
With a bachelor's degree in Marketing and Risk Management from Ball State's business program, Brett finds that his background in not only customer service but collecting has propelled him further into numismatics in a number of ways.
"My grandfather is a collector and I look to him as the reason why I myself also got into it," he explained. "Since I was hired in this position, I have helped him organize his collection which happens to be a garage full. I've guided him and helped to inform him of what he has."
The personal connection to the business, which happens to be his grandfather and one of his heroes, has helped lead him to a job that he loves.
"I always take a personal approach to clients," Brett said. "I'm here to inform them and talk to them about their collections. Customers will send me stuff or sometimes call just to talk. Selling is not always on the agenda for me because I genuinely care about the needs of my clients and the business itself. If I didn't like the product, I wouldn't like what I was doing. There is a lot of trust that goes into it."
While he has been working as a representative for The Coin Vault in the Preferred Customer Division for close to a year, he still finds himself startled at the amount of knowledge he has not only taken in, but that he still has to learn.
"Everyday I learn so much," he stated. "The complexity and levels of this business are so profound and while my job is not necessarily physically demanding, I sometimes go home just drained mentally from all the information I've consumed. And also, the amount of networking and connecting through the hobby from coast to coast is astonishing. This hobby is very close-knit in a lot of ways."
Still fairly new to the business and the company as a 2020 college graduate, he feels like he found exactly what he wanted in a job right out of the gate.
"When people ask me what I do, I tell them that I sell money," he chuckled. "I probably applied to three or four other jobs when I applied to this one," Brett admitted. "I actually turned down a job to come here and interview because I just found it way more interesting. I love it here."
When he's not busy working, Brett enjoys golfing and fishing (although he admitted to not having as much time to fish last year). He prefers not to stay in one place and finds it important to get out of the bubble that is Muncie.
"I like to hang out with my friends and try new restaurants," he said. "I like to vacation and maybe hit up a casino every now and then."
While he may appreciate the art of gambling every once in a while, it seems as if his love for his active role as a member of the Preferred Customer Division is a gamble that certainly paid off. Like his other hero, Arnold Palmer, he models the success he's found after just one simple fact.
"Arnold Palmer was competitive yet humble," Brett expressed. "I like to think that I'm also that way. I'm very competitive in that room, but I'm also supportive of my fellow representatives. I've always thrived in a highly competitive environment where I find inspiration from my co-workers to not only work harder, but to better myself. I don't like to lose and I think in this role, that certainly gives me an edge."