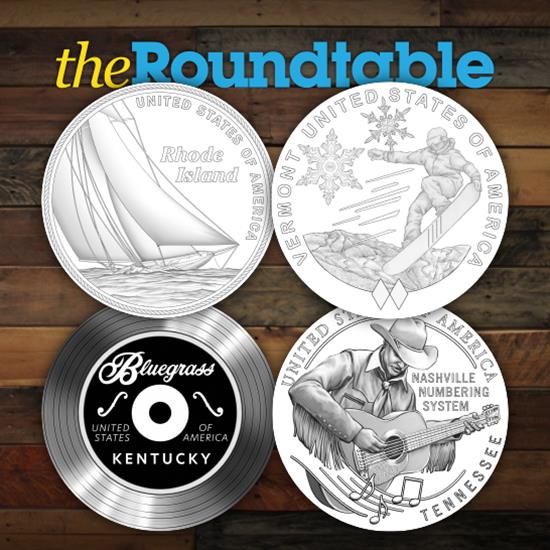 While we have only seen one design of 2021 for the American Innovation Dollar series so far, the Citizens Coinage Advisory Committee (CCAC) has brought forth their recommendations for the 2022 reverse designs. Having met on March 23-24th, the CCAC chose from a number of designs submitted for consideration for Rhode Island, Vermont, Kentucky, and Tennessee.
According to Coin World, any proposed design must be approved by the current Treasury Secretary of the United States, Janet Yellen. In another instance, the designee chosen is to be paired with the American Innovation series' common obverse that was designed by the United States Mint's Artistic Infusion Program (AIP) artist Justin Kunz and sculpted by Phebe Hemphill, a U.S. Mint Medallic Artist.
The multi-year series was introduced to customers in 2018 with "introductory coins". Since then, four coins have been released in 2019 and in 2020 with Uncirculated finishes from Philadelphia and Denver and also Proof and Reverse Proof finishes from San Francisco. The program's intention is to honor innovation and innovators with $1 coins from each State, District of Columbia, Puerto Rico, Guam, American Samoa, U.S. Virgin Islands, and Northern Mariana Islands.
Rhode Island's recommended reverse design from the CCAC features the famous Reliance yacht designed and built by naval architect Nathanael Herreshoff. The yacht is depicted at full speed amidst waters surrounding the state. The outside design is featured with a rope border to reinforce the nautical theme. The inscription "Rhode Island" was suggested to curve by the CCAC.
The reverse for Vermont features a young female snowboarder. She is performing a common trick in the air called a 'melon grab.' In the background, a mountain/winter scene is depicted as per the landscape of Vermont. According to Coin World, the Mint seeks to capture a sense of energy from the chosen design.
As one would expect from the state of Kentucky, the recommended design for the Bluegrass State is inspired by the song 'Blue Moon of Kentucky' as made famous by Bill Monroe and the Bluegrass Boys. The reverse features a record image and label symbolizing the Kentucky bluegrass music scene and its popularity all over the country. The fonts are inspired by 45rpm records.
The last design recommended by the CCAC features a depiction of dams and a transmission tower for the state of Tennessee. The chosen reverse design is meant to highlight the infrastructure and the provided electricity to rural America by the Tennessee Valley Authority.
To see all the submitted designs for all four 2022 dollar coins, click here.
Source: Coin World; United States Mint