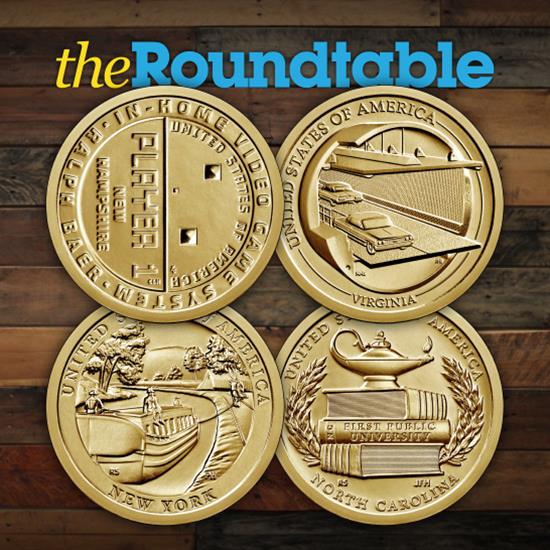 While this year seems to be moving along at a rapid pace already given the circumstances, the United States Mint has done the same. However, not all coins had been given the go ahead and in this particular instance, coins that would be a part of a multi-year series had not been "finalized" in the eye of the collector yet as details nor designs had been released. That has now changed as earlier this month, the Mint finally unveiled the designs for the 2021 American Innovation $1 Coins.
The multi-year series that started with an introductory coin in 2018 and has released four coins a year following is aimed at honoring innovation and innovators by issuing coins for each of the 50 states, the District of Columbia, and the five U.S. territories. The 2021 designs will honor the states of New Hampshire, Virginia, New York, and North Carolina.
New Hampshire
Designed by Christina Hess and sculpted by Engraver Eric David Custer, the New Hampshire design on the reverse depicts Ralph Baer's brown box game "Handball." The left side of the coin has the inscriptions "New Hampshire" and "Player 1" while the "IN HOME VIDEO GAME SYSTEM" and "RALPH BAER" are featured around the entire outside of the coin. Baer created the first home video game console and is honored on the coin by paying homage to the Odyssey game while looking similar to an arcade token.
Virginia
The $1 coin honoring Virginia will recognize the engineering genius that is the Chesapeake Bay Bridge-Tunnel. Designed by Matt Swaim and engraved by John P. McGraw, the design depicts a view of the inside of the Chesapeake Bay Tunnel in motion as it illustrates the creative brilliance involved in constructing it. The inscriptions "VIRGINIA" and "UNITED STATES OF AMERICA" are also featured.
New York
The Erie Canal takes center stage for the honoring of the state of New York on the $1 coin. Designed by Ronald D. Sanders and engraved by Phebe Hemphill, the reverse depicts a packet boat being pulled from the city in the Eastern part of the state to the country areas in the West. "NEW YORK" and "UNITED STATES OF AMERICA" are also seen inscribed on the coin.
North Carolina
The North Carolina design honors the first public institution of higher learning in the United States of America. First opened in 1795, the University of North Carolina at Chapel Hill was the only public institution to award degrees in the 18th century. The design itself features a stack of three textbooks with "First Public University" inscribed on the middle one. A lamp representing knowledge sits on top of the books as olive branches are featured on either side of the coin. "UNITED STATES OF AMERICA" and "NORTH CAROLINA" can also be seen featured.
The obverse design of the coin will feature the Statue of Liberty design that will remain constant throughout the multi-year series. "IN GOD WE TRUST" can be seen on the design as well as the denomination of "$1". A privy mark can be seen in the form of a gear representing the series as a whole in its attempt to honor and represent industry and innovation. The edge of the coins released in 2021 will feature edge-incused inscriptions featuring the year, the mint mark, and "E PLURIBUS UNUM."
Source: United States Mint