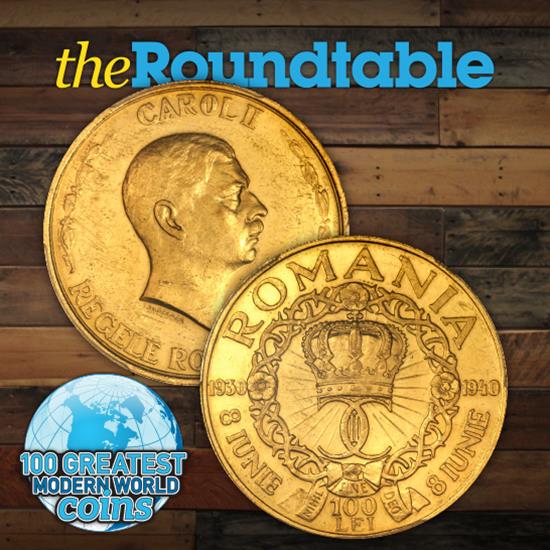 As reigns among kings and queens go, you either fail or not fail as heads of state. However, it is not often that a so-called failure would receive a celebratory six-piece gold set in honor of a 10-year reign that would end the same year it was issued. That is what would happen with the penultimate king of Romania.
In the next entry of our journey through Whitman Publishing's 100 Greatest Modern World Coins publication that was released last year, we will take a look at the gold set that only increased in popularity over time despite the controversial king it was produced for. With authors Charles Morgan and Hubert Walker helping us along, this higher ranked pick features a fascinating backstory.
#24 - Romania 1940 Six-Coin Gold Set
Carol II of Romania was involved in a number of objectionable romantic relationships as a young man that his father, King Ferdinand I, and the royal court disapproved of. He even left his military post and eloped with a young "commoner" woman in 1918 that would eventually be annulled seven months later. Refusing to stop seeing the young Zizi Lambrino, however, he would have a son and they would be forced into exile without Carol by their side. After an arranged marriage and open relationships with other women, Carol would have a son and "appropriate successor" within the marriage, Prince Michael.
King Ferdinand I died when Prince Michael was just five years old and a regency was immediately put into place to oversee the government. However, that was short lived as Parliament would agree with Carol II's royal claim to the throne and a coup d'etat, or overthrow, took place in 1930 that would dethrone his son. Carol's son, the boy king, would be given a new title of Grand Voivode of Alba-lulia instead of being exiled.
As the claim to the throne took its controversial place amongst the history books for the Romanian monarchy, the 10-year reign of Carol II also took its place in the form of a six-piece set of gold coins issued in 1940. The Romanian King took the throne in 1930 and abdicated at the beginning of World War II, just weeks after the coins were offered. Romania was enduring the hostile takeovers of their territory during this time and the set is viewed as a "numismatic valedictory of an unpopular monarch in the final days of his failed reign."
The six-coin set includes the following designs/denominations:
20 Lei, Monogram in Circle
20 Lei, Monogram in Thorns
100 Lei, Monogram in Circle
100 Lei, Thorns on Reverse, Schaffer-111 (pictured)
Trajan Galden (12 Ducats), Schaffer-114
Carol Galden (12 Ducats), Schaffer-115
It is said that there were only 346 pieces each of the 20- and 100-lei coins struck as that number was increased by two for both of the galden issues. According to the authors, the designs used for the 100 lei and 20 lei coins were standard and bore the likeness of the monarch while the reverse would feature a royal signet of some kind. However, the larger gold issues swayed from the norm as the obverses featured a depiction of King Carol II on horseback with the reverses featuring an ornate scene.
The jubilee set was always bound to be rare as not a lot of Romanians were able to afford it. Through a collapsing monarchy and overall time, the coins that did survive were worn down. Authors Morgan and Walker figure that of those that have survived and are complete set-wise, all of them would show wear and damage of some kind.