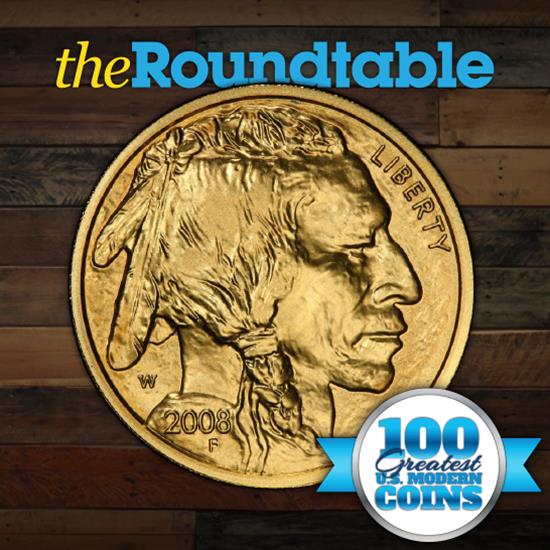 The Buffalo nickel is perhaps one of the most celebrated designs in United States coinage. First struck in 1913 and up until 1938, the coin is still highly collected today. It makes complete sense that the United States Mint would find a way in more recent years to capitalize on such a unique and standout design. This led to the first gold Buffalo coins being authorized in 2005 and a 1oz coin being produced in 2006 with a design that replicated the 1913 Buffalo nickel. However, the Mint would go on to expand the program which introduces this next entry on our blog series featuring the 100 Greatest United States Modern Coins as published by Whitman Publishing. With help from authors Scott Schechter and Jeff Garrett, we will take a closer examination of this one-off collector coin that's scarcity has only made it increasingly attractive over time.
#94 - 2008-W $10 American Buffalo Gold
In 2008, two years after the initial introduction of the Buffalo gold coins, the Mint decided to add fractional coins for the series much like they do for the American Eagle program. They were offered in the same weights and denominations except struck in a high metal fineness. Produced in bullion, Proof, and Uncirculated versions, the Uncirculated coins had the same finish as the bullion edition but featured the 'W' mint mark on the obverse and were ultimately sold directly to the public.
However, the sign of the times made these coins expensive as the price of gold was high and surcharges were added to the already limited quantities of the Uncirculated coins. Of all the denominations and weights, the quarter-ounce gold Buffalo sold just 9,949 and the half-ounce sold just 9,286. The two were the lowest in numbers sold for the series making them more rare. The quarter-ounce gold Buffalo coin itself is the only one of its kind making the item even more attractive to collectors. Another specific about the coin that makes it so wanted among the others is that the size of the coin is similar to that of the original Buffalo nickel.
The fractional gold Buffaloes were not produced from the Mint in 2009 (among other items including the American Silver Eagle) and their poor sales in 2008 prevented them from being produced after that. To this date, fractional collector edition American Gold Buffalo coins have never been produced since.
Since the first edition of this publication, the coin has moved down four spots from #90.