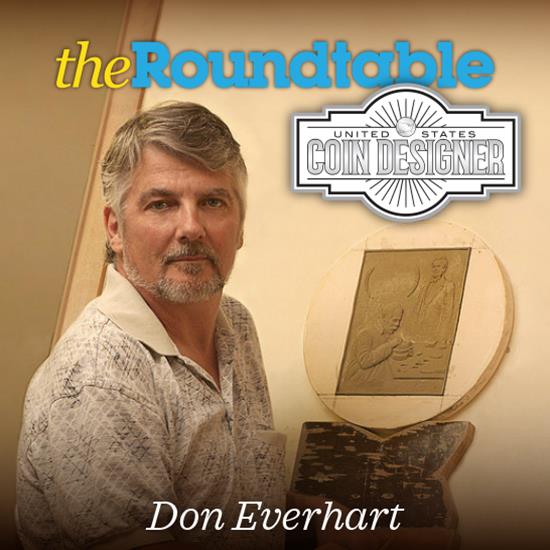 Medals, coins, gold and silver commemoratives. All three of these in the numismatic world are impressive when it comes to the people who design and sculpt them. If you are lucky enough to do just one of these items for the United States Mint, your résumé would drastically stick out among the rest. It just so happens that our next highlighted designer in this blog series has designed and sculpted all the above mentioned in addition to his impressive work outside the Mint.
Don Everhart
Born in York, Pennsylvania, Donald Everhart II developed an interest in the arts at an early age. He would graduate from high school in 1967 and further his studies in art at Kutztown State University where he would graduate with a Bachelor's Degree in Fine Arts in Painting. He would be able to land a job in 1973 at the Franklin Mint as a designer and was eventually able to hold a sculptor position for five years. During that time, he was able to design collectable coins for many different countries including but not limited to the Solomon Islands, Belize, the Philippines, Barbados, and more.
He would leave the Franklin Mint in 1980 to do freelance work where he would create coins, plates, medals, and figurines for the likes of Walt Disney, the British Royal Mint, the Royal Norwegian Mint, and Tiffany Company, and more. He would also create works for various colleges and universities, including one of his most notable works which is a 24-piece bronze installation he created for Georgetown University's Sports Hall of Fame. He also has done works for permanent collections that are featured in the Smithsonian, the British Museum, the American Numismatic Society, and the National Sculpture Society.
Everhart would finally begin his career at the United States Mint in 2004 as a U.S. Mint Medallic Artist. His time there would continue through 2017 as he designed and sculpted many coins and medals. Some of the most notable works were the 2014 National Baseball Hall of Fame Commemorative Coin and the 2015 March of Dimes Silver Dollar. His credits for both designing and sculpting various obverses and reverses also include Presidential $1 Coins, Gold Commemoratives, Silver Commemoratives, Congressional Gold Medals, America the Beautiful Quarters, First Spouse Coin and Medals, Native American Dollars, 50 State Quarters, Platinum American Eagle Coins, Lincoln Cents, and Jefferson Nickels.
Over the years, he has won numerous awards and recognitions, including Sculptor of the Year in 1994 from the ANA and a Lifetime Achievement Award from World Coin News in Berlin, Germany, in February of 2018. He retired in 2018 and still continues to work on commission from his home in Pennsylvania.
Source: US Mint; USA Coinbook