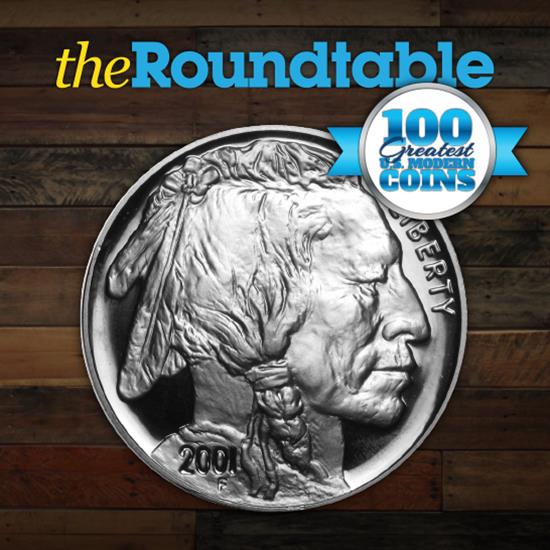 In our last entry for this series exploring Whitman Publishing's 100 Greatest United States Modern Coins, we talked about the inspiration behind the American Gold Buffalo series that started in 2006. Taking design cues from the ever popular Buffalo nickel, the coins capitalized on an already unique and standout design. However, the American Gold Buffalo series was not the first to capitalize on an adaptation of the original. Going back to the start of the millennium, we will take a closer look alongside authors Scott Schechter and Jeff Garrett at a commemorative that first reused the popular design.
#24 - 2001-P American Buffalo Dollar Commemorative
The 2001 American Buffalo commemorative coin was sold to benefit the National Museum of the American Indian which was a new Smithsonian museum under construction at the time. Legislation authorized that a $10 surcharge would be stipulated per coin to help the new museum's funding. The use of James Earle Fraser's design for the Buffalo nickel that featured a Native American on the obverse and an American buffalo on the reverse be used as a model for the new commemorative. The coin was a near-replica of the original.
Congress authorized a mintage of 500,000 and no one expected the coins to sell out as quickly as they did. The secondary market proved to be just as fervent as prices would double and triple their original retail. This caused a great deal of people to be shut out of the buying process which then caused Congress to reconsider the mintage limit, upping it another 500,000. However, this would cause issues as those who purchased the coin were under the assumption that the mintage limit would remain at 500,000. While the debate played back and forth, ultimately the mintage limit stayed right where it was at and no more coins were authorized for production. The Proof version of the coin sold 272,869 while the Uncirculated version sold 227,131.
This coin has moved up four spots since its original ranking in the first edition of this publication (#27).