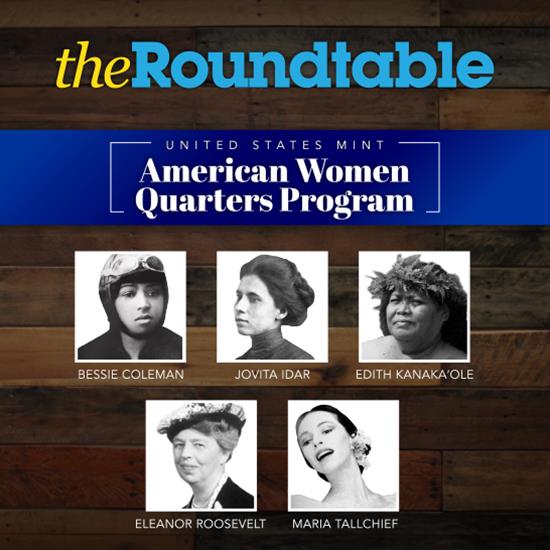 At the end of March, the United States Mint announced the next five women to be honored in their American Women Quarters Program.
As revealed last year, the Mint will issue five quarters a year through 2025 honoring extraordinary women with ethnically, racially, and geographically diverse backgrounds whose accomplishments span a wide range of fields including suffrage, science, humanities, government, civil rights, space, the arts, and more. 2023 will be year two of four in the program and will feature the following women on the reverse: Bessie Coleman, Jovita Idar, Edith Kanaka'ole, Eleanore Roosevelt, and Maria Tallchief.
Bessie Coleman
A pilot, advocate, and pioneer Bessie Coleman was the first African American to earn an international pilot's license. She was also the first African American and first Native American woman pilot.
Jovita Idar
A champion for the Mexican American cause in an attempt to create a better future for immigrants, Jovita Idar was also a journalist, activist, teacher, and suffragist. She dedicated her life to fighting against separatist ideologies and for the civil rights of Mexican Americans.
Edith Kanaka'ole
Edith Kanaka'ole was an indigenous Hawaiian composer, chanter, dancer, teacher, and entertainer. Her stories, or mo'olelo, sought to preserve and rescue parts of Hawaiian history, customs, and traditions that were getting lost due to cultural discrimination at the time.
Eleanor Roosevelt
Known primarily for her role as First Lady, Eleanor Roosevelt was an author, leader, and reformer. She was the chairperson of the Human Rights Commission where she oversaw the creation of the Universal Declaration of Human Rights. She was also the first chair of the U.N. Commission on Human Rights where she advocated for civil liberties and those needs of the disadvantaged, poor, and minorities.
Maria Tallchief
Considered America's first prima ballerina, Maria Tallchief broke even more barriers as she was a Native American ballerina who exuded strength and resilience on and off stage.
Source: United States Mint