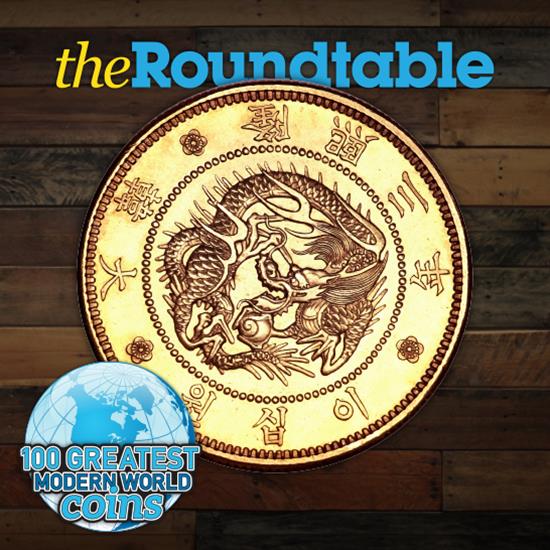 When talking about world coins specifically, there is always more than meets the eye. While United States coinage certainly has its history, world coinage has not only history but a number of layers attached to the country, the government, the time period, economic state, and more. We know that of our own American coinage, but there is so much more to learn and unravel in the case of other issuing countries. That is certainly the case with our next entry breaking down Whitman Publishing's 100 Greatest Modern World Coins compilation.
Along with authors Charles Morgan and Hubert Walker, we will take a closer look at a gold set that was struck in the final years of an empire. Its rarity ensues due to a turbulent time in the country's history in addition to its extremely low mintage and desirability among the country's finer collections.
#5 - Korea 1909 Yunghui Three-Coin Gold Set
The Great Korean Empire ended right about the time it started (1897) as it was annexed in August of 1910 by Japan. However from 1906 to 1909, the 5-, 10-, and 20-won denomination gold coins were produced in Osaka, Japan. The 5-won coin appeared for the first time in 1908 during the second year of reign of Emperor Yunghui. A total of 10,000 coins were struck but a majority were melted down after Japan annexed Korea. However, a few coins did escape that fate. The 10-won and 20-won gold coins debuted in 1906 as their mintages remained lower. This was also the case in 1908 for both denominations and very few of them survived.
The series itself is desirable among world coin collectors due to their ties to a short-lived Korean Empire. The 1909 coins are unlike the previous years strikes as they were done in small numbers and most likely as presentation pieces. There are only two examples known of each of the denominations within the three-coin set. One of the sets is a part of a permanent collection that is held in the Bank of Japan at the Bank of Japan Currency Museum in Tokyo. The other set belonged to Dr. Norman Jacobs who was a Harvard-educated professor, author, and pioneer in the realm of Asian numismatics. The set was broken up after Jacob's death (2004) and was sold individually at auction in 2011. The set brought over $1.3 million total and has since been put together and put back in the hands of a Korean collector.