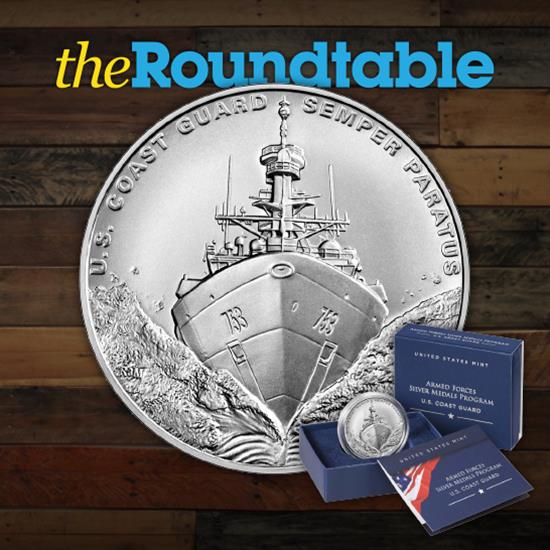 The United States Mint is geared up to launch its second release in its Armed Forces One-Ounce Silver Medal series. While the Air Force was the first to be released in the program, today's release will honor and represent the United States Coast Guard.
Starting today at 12pm EST, the one-ounce .999 fine silver medal will be available individually as well as to those who enrolled in the program. The obverse features a Coast Guard national security cutter at full throttle as it races toward the viewer. Inscribed on the design are the words "U.S. COAST GUARD" and "SEMPER PARATUS," the Coast Guard motto which means 'always ready'. The hull number on the boat represents the cutter Hamilton, which was named for Alexander Hamilton.
The reverse of the silver medal features the two symbols of the Coast Guard: a life preserver ring and the racing strip mark. These two symbols are found on almost all Coast Guard crafts. The Coast Guard emblem in the center is also a part of the racing stripe mark. Inscribed on the reverse are the words "HONOR," "RESPECT," and "DEVOTION TO DUTY." These are the core values of the Coast Guard.
Retailing at $65, the one-ounce silver medal will come in United States Mint packaging and be accompanied by a Certificate of Authenticity.
This medal will be followed by the Navy, Marine Corps, Army and Space Force. Enrollment for the program, which are identical to the design of the larder 2.5oz silver medals, are still being taken. To enroll or learn more about the program, head to the U.S. Mint's website.
Source: United States Mint