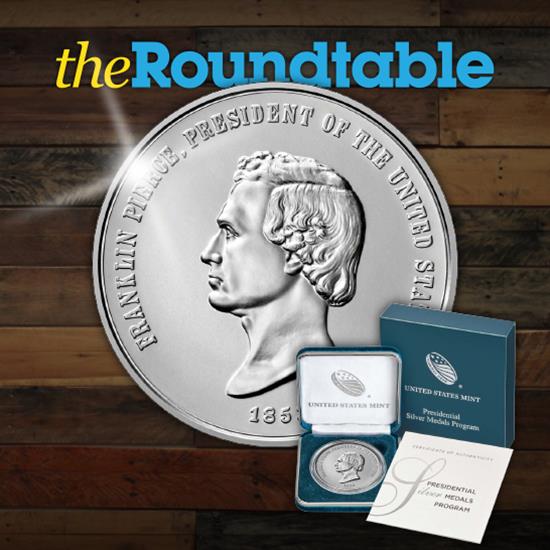 Today the United States Mint is ready to release its next installment of the Presidential Silver Medals Series. Beginning at 12pm EST, you can purchase the Franklin Pierce Silver Medal for $65.00.
Struck in 99.9% fine silver, the obverse of the 1 Troy Ounce medal features the portrait of the 14th President of the United States, Franklin Pierce. Additional design features include the inscriptions "FRANKLIN PIERCE," "PRESIDENT OF THE UNITED STATES," and "1853." The designer, Salathiel Ellis, also has their name inscribed on the obverse just under the truncation of the neck.
The reverse of the medal features a farmer with a plow in hand conversing with an Indian Chief. An American flag is in the background and the inscriptions at the top of the medal read "LABOR," "VIRTUE," and "HONOR." "J.WILLSON" is seen at the bottom of the medal, the designer of the reverse.
The medal will arrive in the teal blue U.S. Mint packaging as seen with previous Presidential Silver Medal program releases. It will also come with a Certificate of Authenticity.
Source: United States Mint