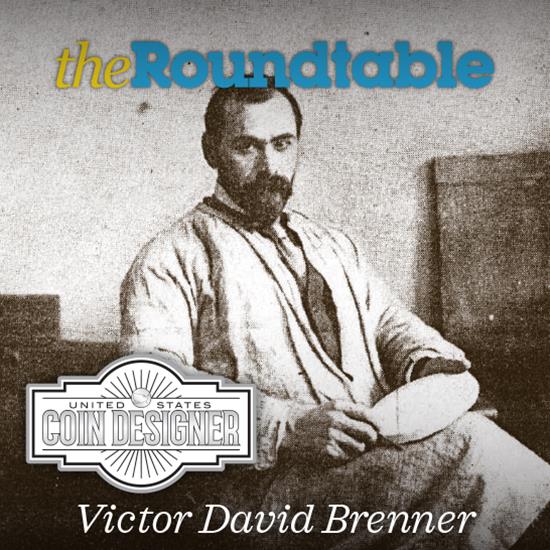 Picture this: you and your father have been sitting at the kitchen table for the past couple of hours sorting through a number of pennies you have just purchased from your first local coin show. While the time seems to be dragging and your search only leads you to find just a few 1930s and a couple of 1920s in the hours you have been grinding away, you are at the precipice of giving up while your father subtly reminds you that in fact, there are a lot more to go through. Suddenly, you had to wipe your eyes as if to believe what was in your hands! "It cannot be real!" you mutter under your breath. Finally, all those hours have been worth it. A 1909 S V.D.B. Lincoln Wheat Cent sits in your palm as you look up proudly at your father.
In a lot of cases, that may have happened to just about anyone in any situation. The famed V.D.B. on a San Francisco Lincoln Wheat Cent from 1909 is THE key date of the Lincoln pennies. But who is this V.D.B. and why is it their initials that are so important to the numismatic business?
Victor David Brenner - V.D.B.
Born Viktoras Baranauskas in Siauliai, Lithuania, on June 12, 1871, Victor David Brenner was taught at a young age by his father the skills for gem and seal engraving. He was also taught sculpting and by 1890 at the young age of just 19, Brenner moved to the United States of America and lived in New York City. This was also why he changed his birth name as it was thought easier to gain access to the States this way.
After moving to America and living on the skills taught to him at a young age by his father, Brenner also made it a point to learn English while taking courses at the Cooper Union. He also learned French later on as it would prove to be helpful for him years later when after living in the U.S. for eight years, he decided to move to Paris and continue his education in the field of arts and medals. He studied at the Academie Julian School of Art under instructor Oscar Roty, a highly celebrated medalist in his own right in the Art Nouveau period. The academy is where he finely tuned and crafted his skills as he became more and more experienced. He would eventually go on to win awards during the 1900 Paris Exposition which garnered attention and built his reputation. From there, he moved back to America where his name alone had no problem finding work and furthering his career.
Upon his arrival back in the states, Victor David Brenner became an instructor at the School For Die Cutting. In addition to instructing, he finished fine medal dies for the private sector and continued to build on his name. It was his continued success that eventually brought him closer to the very determined President of the United States, Theodore Roosevelt.
It is very well known that President Roosevelt requested a major overhaul of all United States coinage as he felt the designs fell flat. Among Roosevelt's company that involved Augustus Saint-Gaudens and Bela Lyon Pratt, Victor David Brenner found himself in strong agreement with the passionate Roosevelt about commemorating the centennial of Abraham Lincoln's birthday in 1809. It only made sense to them both that the first President of the United States is used on United States coinage.
It just so happened a few years earlier in 1907, upon the support of Roosevelt, Brenner had already produced a work on a medal and plaque portraying President Lincoln. The following year, Roosevelt and Brenner agreed that the Indian Head Cent was no longer current and needed to be replaced. Because of the plaque Brenner created and its color of brown, it was finally authorized in 1909 that the United States Mint would create a Lincoln Wheat Cent in commemoration of the 100th Anniversary of the birth of the great Abraham Lincoln.
1909 VDB Lincoln Wheat Cent
The coins were released to the public on August 2, 1909, and were met with extreme excitement. The Philadelphia Mint even had to limit how many coins each person could buy. But with any new release, the coin also came into some criticism. Many did not approve of the initials of Victor David Brenner, V.D.B., being so prominent on the bottom of the reverse. Eventually, the coin would be recalled after the American Numismatic Association held a meeting to discuss the coins. Brenner made his case stating that the intent was not an advertisement but a way to "teach future generations and students of history about who the artist was and the history of that time period."
While Roosevelt felt passionate about coins and their future, new United States President William Howard Taft did not feel as such and would, in the end, sign off of the recommendation that the 1909 VDB Lincoln Wheat Cent would be no more. The Lincoln cent would continue to be minted without Brenner's initials until 1918. The Mint would then allow the initials of V.D.B. to be included on the coin except it was to be placed much smaller under Lincoln's shoulders on the obverse. In 1958, the wheat ears would be replaced with the Lincoln Memorial. Victor David Brenner's design would be on front but Frank Gasparro would be credited for the design on the back. While there were a large number of 1909 VDB cents minted at Philadelphia, there were very few minted at San Francisco. The rare 1909 S VDB Lincoln Wheat Cent is a key date for collectors alike and can bring thousands of dollars depending on the condition.
Victor David Brenner, most famous for his initials on a one-cent piece, passed away on April 1, 1924. His legacy is imprinted on the numismatic hobby and will continue to be moving forward. His famed design will forever be sought after and his career revered among designers.
Source: USA Coinbook