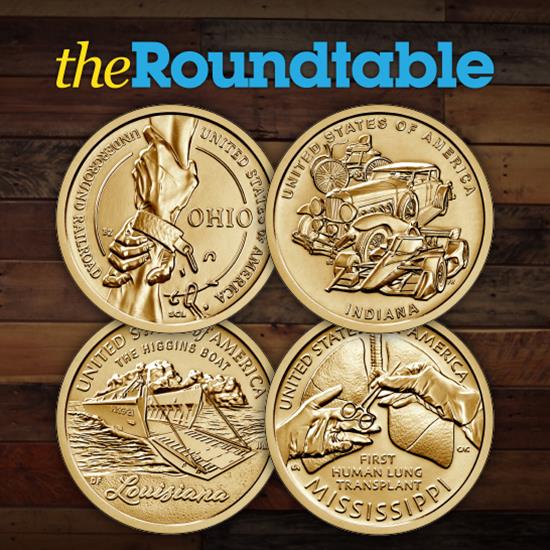 The new year is upon us which means the next 12 months will be filled with new and annual products from the United States. This includes coins from the American Innovation $1 Coin Program. In late December, the Mint unveiled the 2023 designs honoring Ohio, Louisiana, Indiana, and Mississippi.
Kicking off in 2018 with an introductory coin and following up with four coins per year in the following year, the multi-year series aims to honor innovation and innovators for each of the 50 states, the District of Columbia, and the five United States territories (Puerto Rico, Guam, American Samoa, U.S. Virgin Islands, and Northern Mariana Islands). Ohio was the first to be released earlier this year in rolls and bags and marks the 17th official release of the series (excluding 2018's introductory coin).
Ohio
The reverse features two hands that are strongly grasped together with the upper arm pulling the lower arm upward, representing the support and strength that took place during the events of the Underground Railroad. A chain is also seen fastened to a shackle that is wrapped around the lower arm's wrist. The chain is depicted as snapping and revealing its fragments, showcasing hope and freedom. Inscriptions included on the design are "UNITED STATES OF AMERICA," "UNDERGROUND RAILROAD," and "OHIO."
Designer: Beth Zaiken - Artistic Infusion Program (or AIP)
Sculptor: Stephen Layne - Medallic Artist
Louisiana
The reverse depicts a Higgins Boat as it would have been deployed during World War II. A landing ramp is open against the beach, something innovative at the time. "UNITED STATES OF AMERICA," "THE HIGGINS BOAT," and "LOUISIANA" are seen inscribed along the top and bottom.
Designer: Dennis Friel - AIP
Sculptor: John P. McGraw - Medallic Artist
Indiana
A series of vehicles are seen on the reverse, showcasing the innovations from yesterday and today. They include an early style gas automobile representing classic car production and a recent model of an Indy style race car today. "UNITED STATES OF AMERICA" and "INDIANA" are also seen inscribed on the design.
Designer: Ron Sanders - AIP
Sculptor: Phebe Hemphill - Medallic Artist
Mississippi
The reverse design features a pair of human lungs in the background and a surgical assistant passing forceps to the surgeon during the first lung transplant surgery. "UNITED STATES OF AMERICA," FIRST HUMAN LUNG TRANSPLANT," and "MISSISSIPPI" are also inscribed.
Designer: Katelyn Arquette - AIP
Sculptor: Craig A. Campbell - Medallic Artist
The obverse of the designs feature a representation of the Statue of Liberty with "IN GOD WE TRUST" AND "$1" inscribed. It also features a privy mark in the shape of a stylized gear representing industry and innovation. The edge of the coins are incused featuring the year, mint mark and "E PLURIBUS UNUM."
Source: United States Mint