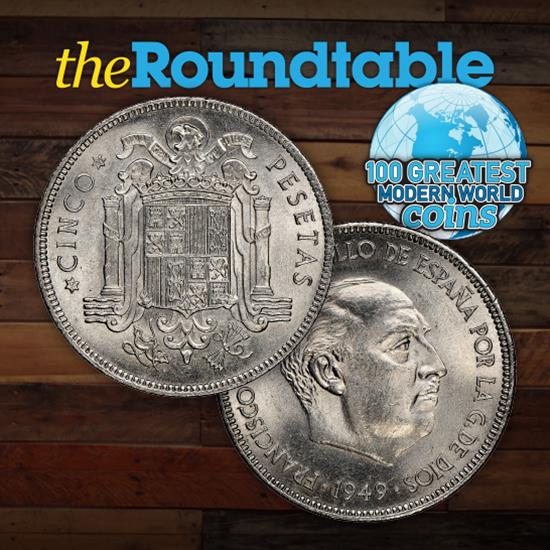 While a number of countries participated in the Second World War, Spain was one that somehow evaded the detriments of such significance in our world history. While some credit their leader at the time for that, others saw him for what he was: a brutal general who led charges even against his own people. While that seems indicative of a number of leaders of our past, the harrowing of such acts you would think would not land such a person on coinage in commemoration of such a style of leadership. That is not the case with this Spanish leader and he appears on coinage that we will discuss further as part of our journey following along with Whitman Publishing's 100 Greatest Modern World Coins series. Authors Charles Morgan and Hubert Walker take us through this top pick with a rare coin from the mid-20th century.
#68 - Spain 1949 Silver 5 Pesetas (52)
Filled with domestic issues and civil war, Spain endured a lot in the twentieth century just like a lot of countries. However, it was unique in that a lot of its struggle was led by one man: General Francisco Franco. He was a monarchist, fascist, showcased brutality, and was a devout Catholic. He wanted Spain to return to feudalism with him and his people in complete control of the government. To achieve this feat, he performed massacres against political enemies and filled the countryside with bodies by the hundreds of thousands. Women were brutally raped by the masses and crimes against children were carried out in the open with terror and trauma the desired result. A lot of times part of the Spanish coat of arms under Franco (yoke and arrow), which also happens to be featured on the reverse side of the coin we are going to talk about, was branded on the breasts of their victims under his rule.
Despite all of this, Franco is still revered in parts of Spanish society. Many overlooked his atrocities carried out on fellow citizens simply because he kept them out of World War II. With this they believe that his economic policies helped keep unemployment low, but really the fact of the matter was that he "disappeared" many working adults. Others revere him because he was thought to have kept Spain from becoming a communist country, looking over his crimes all the while.
Regardless of his reputation, Franco's effigy dominated Spanish coin designs from 1949 until his death in 1975 when King Juan Carlos I took his place. Spanish coins used a decimalized system with 100 centimos equal to one peseta. In 1949, the Spanish Mint issued just three denominations: the 50 centimos (two types), the peseta, and the 5 pesetas. While they produced over 20 million pieces in 1950, they struck just 151,000 in the following year of 1951 and only 20,000 in 1952. Both mintages of the years are believed to be lost.
The obverse of all the issues bear the 1949 date but differentiating the coins by type is quite difficult to do. The reverse features the date of production in small incused numbers on the inside of the two stars that are on either side of the word CINCO. The left star features the numbers '19' while the right star features the remaining two digits of the date. The 5-peseta coin with the '50' in the star is common. Those that depict '51' or '52' are rare with the latter being even more so. With this in mind, public sales of these coins with the '51' and '52' are difficult to track.