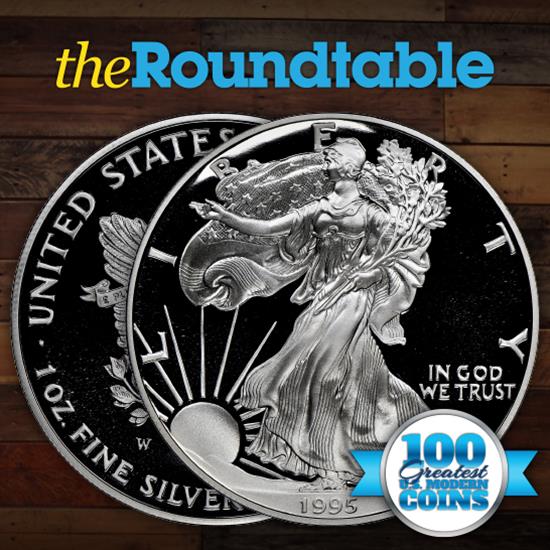 We talk all the time about the Mount Rushmore of United States coins. When it comes to modern coins, there is always an American Silver Eagle involved. While there have been a number of challengers in recent years to take the top spot in the series, this particular issue has remained one of the most popular if not THE most popular among all the others. Known for its low mintage and controversial release, it has always held one title that many have come to recognize it from: the King of the American Silver Eagles. With help from authors Scott Schechter and Jeff Garrett, we will take a closer look at this top five pick in the latest and fourth edition of the 100 Greatest United States Modern Coins publication.
#4 - 1995-W $1 American Silver Eagle, Proof
Deemed one of the most coveted yet controversial modern United States coins, the 1995-W Proof American Silver Eagle was the first ever struck at West Point and featured the 'W' mint mark. Since their inception in 1986, Proof American Silver Eagles were money makers for the Mint as a result of surcharges placed on the coins. In 1995, the Mint was celebrating the 10th anniversary of the American Eagle Bullion program. They created a 10th anniversary set including five Proof coins which was comprised of all four West Point Mint Proof Gold American Eagle coins ($5 coin (1/10oz), $10 coin (1/4oz), $25 (1/2oz), $50 (1 oz)) and the Proof American Silver Eagle.
Until the 1995-W American Silver Eagle Proof, all other Proof issues were struck in San Francisco or Philadelphia. However, in 1995, it was struck in BOTH Philadelphia and West Point. The only way to get the 'W' minted Proof Silver Eagle was to order the set. If they ordered the individual version, they would get the Philadelphia minted coin. This is where collectors would get heated: the set was retailing at $999. Once the sales period ended, a little over 30,000 sets were sold and therefore set the mintage limit of the 1995-W. It would also make it incredibly rare. Collectors were highly upset and accused the Mint of unethical practices by forcing people to spend thousands of dollars to get the rare issue. On top of this, secondary market prices for the coin were skyrocketing. It was being valued at hundreds over previous issue Proof American Silver Eagles and while time passed, it only grew even more.
Regardless of threats, collectors did not stop buying the Proof issues. The coin still continues to have an extremely low mintage and is still selling for thousands of dollars in certified offerings. It perhaps is more popular today than it ever has been.
The coin is still at #4 as it was in the first edition.