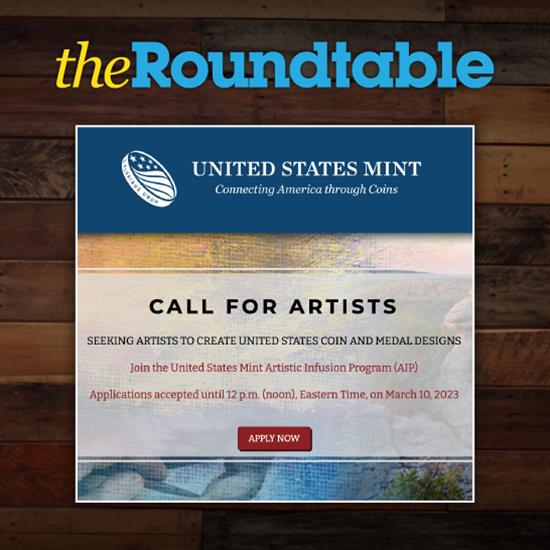 Are you a professional artist looking to expand your portfolio? The United States Mint is seeking artists to join their Artistic Infusion Program (AIP)!
If you are unsure of what the AIP is, it is a group of American artists who "enrich and invigorate our Nation's coins and medals through the development of specialized designs." AIP Designers are able to work from their own studios, are named in historical documents, Certificates of Authenticity and promotional materials, and in most cases, have their initials appear on the final coin or medal, and are paid a set fee per assignment and earn a bonus fee per design selected for minting.
To qualify for the AIP, you must be at least 18 years of age at the time of applying, a citizen of the United States, and willing to accept the Mint's Terms and Conditions. In addition, you must be a professional artist with work either published, produced, or exhibited in any design driven media. This includes graphic design, illustration, animation, comics, concept art, street art, tattoo art, poster art, collectibles, or any other outlet where design integrity is a premium.
To be considered for the AIP, you must submit an application containing a minimum of five and maximum of ten samples of your work. Artists are encouraged to submit works that display a full range of talent and ability. After the completion of Evaluation Phase One, the Mint may invite artists to join the AIP without further evaluation. Those who are selected for further evaluation are invited to submit a resume, a web link to their online portfolio, and more as part of Evaluation Phase Two.
Here is more from the Mint on what they are looking for:
"The Mint is seeking artists who can bring innovative perspectives and who can effectively utilize symbolism to create original artwork that successfully conveys a particular subject matter. The subject matter of the assignments varies across the coin and medal programs. For example, some programs require portraits, some require landscapes, and many—as is the case with Congressional Gold Medals—require images emblematic of the honoree's life and work. Many times, complex ideas and concepts must be conveyed through the coin and medal designs. Artists are expected to distill a program's design theme to its essence, representing these complicated subjects on a very small palette. Whether a particular AIP artist's work is realistic or stylized, artists typically use a variety of resource or reference materials to translate and interpret a wide-range of subjects and concepts into designs.
Although designs begin as an illustration, artists must think three-dimensionally as they create coin and medal designs that will be translated into bas-relief sculpture. Artists must take into consideration relief, depth, negative space, and the type of metal that will bear the design. "
Applications are accepted until 12pm EST on March 10, 2023.
Source: United States Mint