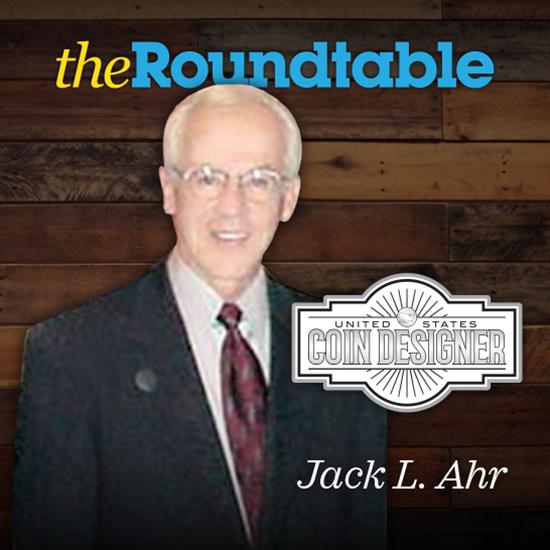 In just a little over three years, the United States of America will be celebrating its semi quincentennial, or in other words, its 250th anniversary. We cannot even comprehend that kind of time, but we understand its importance to the history of this nation. There have been several celebrations in honor of America's birthday, including creating coins, medals, and currency that honor the day and year our freedom was signed on the dotted line. One of those creations came from our next spotlight in our blog series covering United States coin designers.
Jack L. Ahr
Born in Cincinnati, Ohio, in 1931, Jack attended Bowling Green State University studying the arts for two years. From there he would further his education, talent, and skills in Indianapolis, Indiana, at the John Herron Institute of Art and later at the American Academy of Art in Chicago, Illinois. He would also serve his country as part of the United States Army for two years where he was stationed at Fort Knox, Kentucky. Coincidentally, that is where the U.S. gold and coin bullion reserves are located.
Jack would go on to work as an artist and director for a number of companies, specializing in designing high school and college class rings, awards, medals, pins, and commemorative medallions. While settling in Arlington Heights, Illinois, he would open his own business in 1972 called Jack Ahr Designs and Sales. It was not until the following year that he would design one of the most famous coins in U.S. history.
In 1973, the U.S. Treasury held a public competition to design commemorative U.S. coins to celebrate the bicentennial (200th) anniversary of the founding of the United States. Those coins included the dollar, half dollar, and quarter dollar and their obverses would remain unchanged. However, the reverse of the coins would be changed for the years 1975 and through 1976 (two years) and would feature the dual date 1776-1976. The competition was open to all U.S. citizens who were sculptors but were not currently employed by the government. Jack Ahr was one of many sculptors to enter and submit a design for the Washington Quarter Dollar. In March of 1974, he would be selected by the United States Mint as the winner where he would also get $5,000 in prize money.
The design itself featured a colonial drummer with a flaming torch surrounded by 13 stars. Chief Engraver of the United States Mint, Frank Gasparro, would make minor adjustments to all three winning designs (dollar, half dollar, quarter dollar). When it came to the quarter, he would modify the drum to make it look more authentic in addition to altering the drummer's face and changing the lettering. Jack would be invited to the White House in April of 1974 to be honored. In addition, he was invited to the Philadelphia Mint for a tour. He would get to see the first prototypes of the quarters being produced later that year in August. The actual coins would not be released until July 4, 1975.
Over 1.6 billion Bicentennial Quarters were produced in the two-year period. They were and are still popular among collectors, especially those that were featured in the 1976 Bicentennial Proof Set and Silver Proof Set (40%).
Source: USA Coinbook