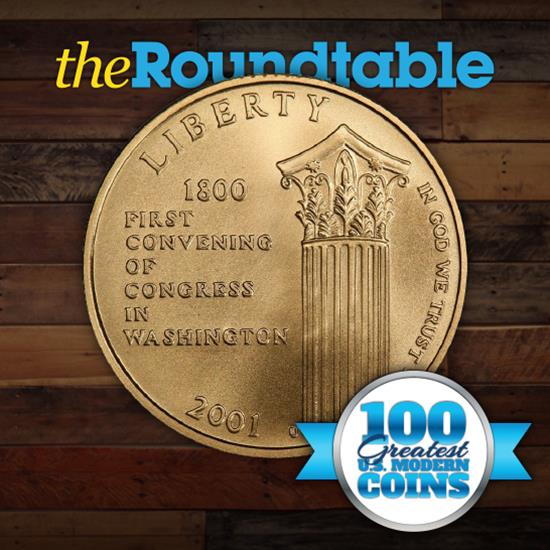 We have said it time and time again: when it comes to commemoratives, the more unpopular it was at the time, the more demand it will have later. That is certainly the case AGAIN with this next coin in our blog series covering Whitman Publishing's fourth edition of the 100 Greatest United States Modern Coins. Authors Scott Schechter and Jeff Garrett will help guide us on this continuing journey.
#45 – 2001-W Capitol Visitors Center $5 Commemorative
Poor sales contributed to the 2001-W Capitol Visitors Center $5 Commemorative's small mintage. Its low mintage eventually made it the second lowest minted commemorative coin in the entire series for a decade. But why the poor sales? There are a few theories that the authors take us through, one of them being that it was the fifth commemorative program in the span of 11 years that recognized Congress directly or through an "affiliated institution." It also did not help that the surcharges from the sale of the coins would go to the construction and maintenance of a brand new 446,000 square-foot U.S. Capitol Visitor Center. Some believed this was Congress's way of passing the buck to collectors for their own benefit.
The program as a whole was bigger and included three coins all with large mintages. This brought back the similarity to the less than successful 1995 and 1996 Olympic coinage (which also graces this top 100 list). To put things clearly, there was no reason that this program in 2001 would do any better commemorating the 6th Congress' first meeting in the Capitol building. The subject matter was less than appealing, but the design of the $5 gold commemorative itself was a problem aside from its silver and clad counterparts. While buildings on coins were normally well-received, they chose to show a portion of the building that was completed in 1800 on the 2001-dated coin. It was, as the authors put it, "an unrecognizable and unbalanced square building." The Capitol building is now known for its large dome, one that is clearly missing from the design. All three coins in the series only display the building partially finished.
Only 6,761 Uncirculated $5 gold coins were sold making it still among the lowest minted $5 commemoratives to have ever been produced.