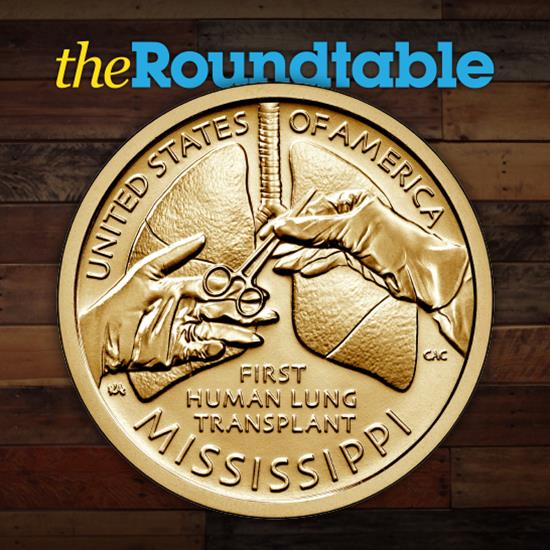 The United States Mint is wrapping up their 2023 American Innovation $1 Coin series today with the fourth and final release. Available in 25-coin rolls and 100-coin bags from Philadelphia and Denver, the coins honoring the state of Mississippi will go on sale at 12pm EST.
Designed by Artistic Infusion Program (AIP) designer Katelyn Arquette, the reverse features a pair of human lungs in the background and a surgical assistant passing forceps to the surgeon during the first lung transplant surgery. "UNITED STATES OF AMERICA," FIRST HUMAN LUNG TRANSPLANT," and "MISSISSIPPI" are also inscribed. It was sculpted by Mint Medallic Artist, Craig A. Campbell.
Starting in 2018, the American Innovation $1 Coin program began with an introductory coin and followed up with four coins per year afterward. The multi-year series aims to honor innovation and innovators for each of the 50 states, the District of Columbia, and the five United States territories (Puerto Rico, Guam, American Samoa, U.S. Virgin Islands, and Northern Mariana Islands). This year's coins feature Ohio, Louisiana, Indiana, and Mississippi.
The obverse of the design features a representation of the Statue of Liberty with "IN GOD WE TRUST" AND "$1" inscribed. It also features a privy mark in the shape of a stylized gear representing industry and innovation. The edge of the coins is incused featuring the year, mint mark and "E PLURIBUS UNUM."
Source: United States Mint